Padraig Downey is one of our MA in International Relations students and the owner of a theatre company in the United Arab Emirates. Originally from Ireland, Padraig has lived in the UAE for the past nine years, after spending time in New York, California, Paris and Rome over the last two decades. He's now studying for his degree with us, while still producing and teaching theatre.
We sat down with Padraig over a call to discuss his experience earning his MA.
This is the second half of our two-part interview. In the first, Padraig discusses his time as an online student thus far, including how he balances his career and studies: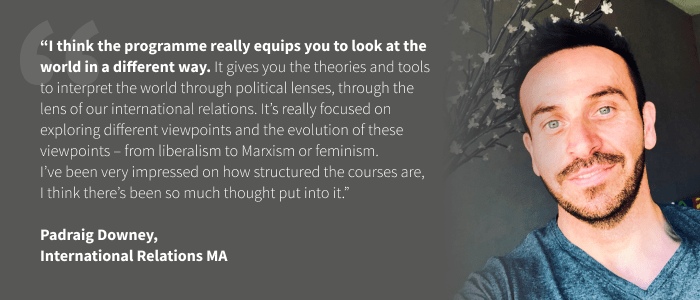 What made you select this course? How do you think it will help you advance in your career?
I think for me, I did it first and foremost to challenge myself and see the world in a new way. Politics is something I'm very interested in, and I always have been.
In life we wear many hats, but we can be pigeonholed into one profession. I've worked as a teacher, I've worked in media as well. And now I work in theatre, and it's something that I love. But as human beings, we're multifaceted. A lot of my work in theatre is political, and I have done a lot of theatre on Middle Eastern topics from around the Gulf. I've worked with playwrights from Palestine, from Kuwait, Saudi Arabia; a lot of my actors are from the region as well.
I'm passionate about hearing the voice of Arab women – empowering them not just to be on stage, but to produce, direct and create their own theatre. It is a powerful narrative that is perhaps looked over for our Eurocentric, masculinised, white narrative that takes centre stage.
Another thing that I find is evolving at the moment is a whole realm of cultural diplomacy and cultural decolonisation, which is something I can [explore in my work]. And that's how I can use my expertise in the arts alongside the expertise I am acquiring through my studies at Queen Mary.
Can you explain what the learning environment has been like?
A lot of the students come from very different backgrounds. We have people working in diplomacy, from finance backgrounds and from legal backgrounds. And then of course, there's people like myself from the humanities. It's just so incredible to have such an eclectic array of voices together. We all come from different systems and upbringings, with different perspectives.
I went to university in Ireland at the beginning of my undergraduate degree, and then to California for my Master's. And I felt that I was maybe in an echo chamber, because in Dublin I was in this university with people just like me. We're studying international relations, and this course is a microcosm for what the world should be, and what we can do to shape it in a way that's better for everybody.
What does a typical study week look like for you?
There's usually an introductory activity, followed by a series of discussions with other students. That's followed by a lecture, which is something I really enjoy. I take notes on the lecture and you can click through it on Canvas, which is the online learning platform we use to communicate. There's normally an activity given that you have to spend some time on, that's where you do the prescribed and additional readings. We'll also have a webinar at the end of the week, where our professor will challenge us to revise some of the most important points of the week and we can bounce ideas off each other.
I do a little every day, or at least five or six days of the week. You really have to do fifteen to twenty hours per week – that's the recommended amount of time. And I'd say that's correct, because if you want to understand the topic and do your activities well, it's important to do all the readings. And it's such a wonderful thing to have the library online, because when I was doing my last Master's, we had to borrow the books ourselves from the library, which was difficult when there weren't multiple copies.
How impressed were you with the academics? Is there anything in particular you would like to talk about with regard to the programme?
I think the programme really equips you to look at the world in a different way. It gives you the theories and tools to interpret the world through political lenses, through the lens of our international relations. It's really focused on exploring different viewpoints and the evolution of these viewpoints – from liberalism to Marxism or feminism. I've been very impressed on how structured the modules are, I think there's been so much thought put into it.
You really feel like you're developing your thoughts. There's not just theory for the sake of it, but to challenge and develop you. And there's the writing as well, because you're doing forum activities through the week. And they're not very heavy forum activities – though you can make them heavy if you want. Our professor is able to comment on every single thing we write. I know how hard it is when I have a number of students in drama, and the amount of time she takes to truly read everything we write and respond thoughtfully is incredible.
What would you say are the skill sets needed to be a successful student on this course?
It's very important to listen to other people's viewpoints, even if you disagree with them, because they're seeing the world from a different place. And I think we all have to try and understand each other. That's the nature of diplomacy – to appreciate the perspectives people are bringing to the table, listen to them, take them on board, and have them influence your way of thinking as well.
This whole realm of international relations, from what I've learnt, is still developing and should be more inclusive than what it is at the moment. And I think our teachers really encourage that. They encourage us to be at the forefront, not just regurgitating what people are saying, but to challenge perceptions and understand what while there are limitations, we can all work together to make something.
This isn't just a course for the sake of a course. We're not just studying to get a piece of paper; I want to develop as a human being. And I think that Queen Mary, in my dealing with the teachers and the students, is just making us better people who can bring that into our societies and contribute to their enrichment.
Queen Mary Online's International Relations MA can help you develop the skills and knowledge to think, talk and write critically about contemporary international challenges: